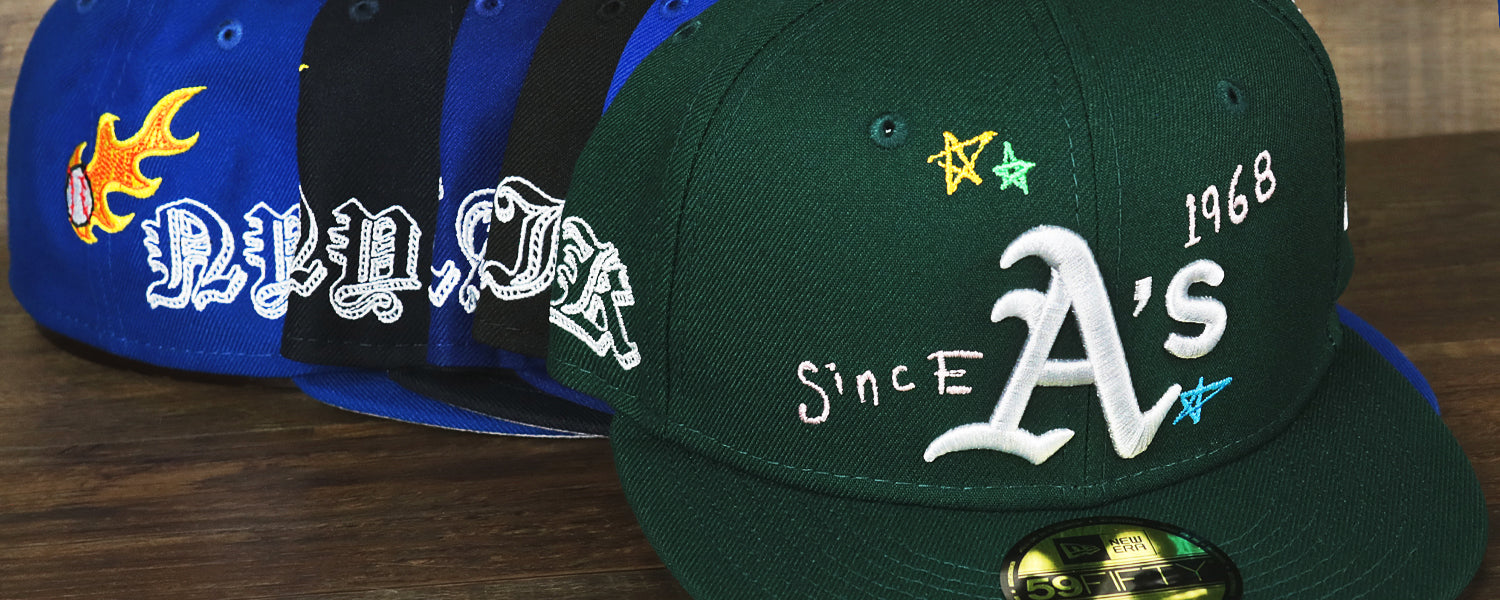 59Fifty Side Patch New Era Scribble | All Over Patches New Era Fitted Caps Scribble | Side Patch with Gray Undervisor 5950 Scribble
What's so great about the Custom fitted hat with patches in the New Era Scribble pack?
Honestly what's not amazing about them. With all over embroidery and a gray uv this fitted cap looks cool and stylish. These caps come in different colors from navy blue, green, black, maroon, and royal blue giving you options on how you want to look. These 5950 fitted New Era caps have the team's origin year embroidered on the front and the 59fifty New Era fitted cap features the city initials old english patch. The custom fitted cap with side patches in the Scribble pack has star embroidery all over the fitted cap, making these custom fitted caps with all over patches a great addition to any 5950 fitted cap collection.
Does only the MLB have Exclusive fitted caps with patches like the Scribble pack?
While normally the 5950 caps feature MLB teams, in the scribble series there is an exclusive NBA fitted cap. The 59Fifty fitted cap with side patch is mostly reserved for MLB teams because it is the official on-field gear of MLB players. The NBA 76ers 5950 fitted cap with all around patches did drop in the New Era scribble series. Now, this is a rare NBA side patch fitted cap and the 76ers 59fifty cap even has the world champions side patch! Even if it's an MLB fitted cap with patches or an exclusive NBA 59Fifty with all over embroidery they both look amazing in your 59Fifty fitted collection.
What teams are in the New Era Scribble series?
The classic teams are back again in this New Era scribble drop. You may notice that the Cooperstown old school Phillies logo is on the exclusive scribble cap, while we did not pick it up in the current logo or colorway, the nostalgic vintage Philadelphia Phillies maroon colorway is a must-have item for any real fitted cap collector. Now the old-school Phillies isn't the only team we have in this 59fifty new era side patch collection. We have the Yankees, Dodgers, Pirates, Athletics, and Mets from the MLB. We also have an exclusive NBA fitted cap with the 76ers. All of the 5950 fitted caps come with a gray bottom for that classic fitted cap look.
What makes the Scribble series so special?
The 5950 scribble series is special because of its exclusive all over embroidery. Unlike the basic 59Fifty side patch fitted that only have one side patch embroidered, the scribble pack has embroidery all over the cap and it is done in a hand-written random style that gives it a very streetwear-inspired vibe. The fitted exclusive side patch caps come in a variety of colors from blue, black, green, and red, making them perfect for any outfit you have. This exclusive fitted 5950 cap has the world champions win patches for each team, making them great for any fan of these amazing teams.